Douglas Beauty Tester
---
Explore the power of Word of Mouth Marketing and optimize the performance of your products through high-quality reviews from the Douglas community.
With our Douglas Beauty Tester product tester program, your product reaps the benefits of product reviews and user-generated content in our online store and other Douglas channels.


The power of word of mouth
92%* of consumers are more likely to rely on word of mouth in the form of product reviews.
25-40%* of all traffic and lead generation comes from earned media. A company's brand is no longer primarily defined by their advertising, but mainly by what people say about it. This underscores the importance of a smart advertising campaign. Our testers function as nano-influencers and share their experiences as product reviews on DOUGLAS and user-generated content on social networks, which increases your brand's reach!
*Source: Social Media today 2020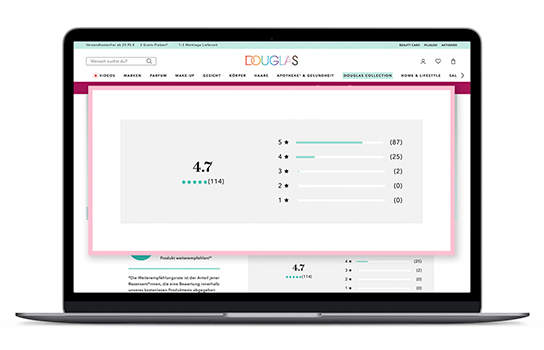 Powerful campaigns for your company
The Douglas Beauty Tester offers your company the opportunity to launch campaigns that focus on the heart of your target group. By using our extensive CRM data pool of around 47 million beauty enthusiasts, we identify the perfect testers for your product based on brand and category preferences as well as buying behavior. Our ultimate goal: to have a long-term, positive impact on your conversions.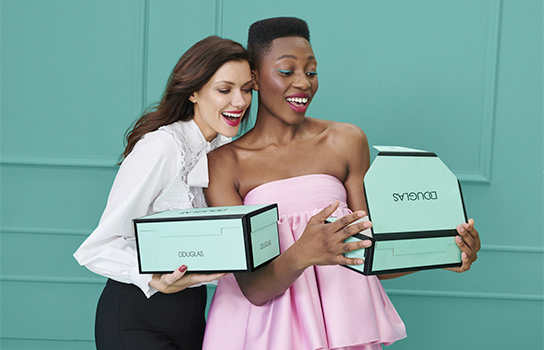 Our 360° advertising campaigns
Our 360° campaigns cover the entire customer journey. From awareness to lasting positive impact, we promote and activate selected CRM customers via newsletter and motivate them to buy your products.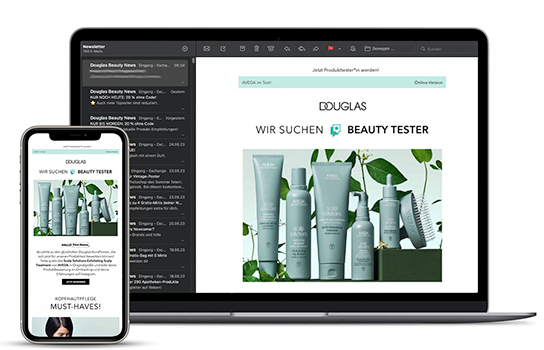 Authenticity through our Trust Seal
If at least 80% of the testers recommend your product, it receives the Douglas Beauty Tester Trust Seal. This seal is displayed on the Douglas Beauty Tester content page in the Douglas online store and underlines the authenticity of your brand, as it identifies your product as a genuine recommendation from beauty fans who have actually received and tested it.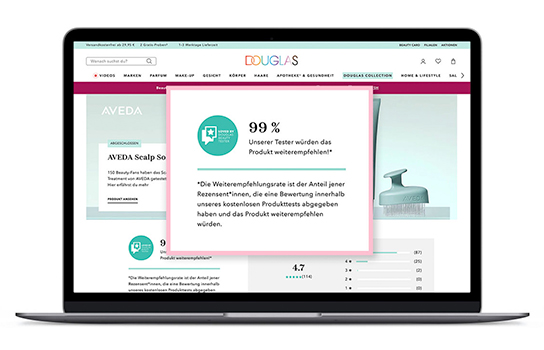 Ready for your next campaign?
---
Are you ready to take advantage of this opportunity and start your next advertising campaign with us? Contact us and let's plan your product test together!
Frequently Asked Questions
---
Do you have any unanswered questions?
Here you will find the answers to frequently asked questions!
---
How many testers are selected per advertising campaign?

Our basic package includes 100 testers. You have the possibility to add up to 100 additional testers.
---
How are suitable testers for my campaign determined?

You will receive a briefing from us in which you can specify your preferred target group. Only CRM customers who meet these criteria will receive the campaign newsletter. We will select the most suitable testers from all applicants. You can also specify exclusion criteria to ensure a match between tester and product.
---
Will all participants be informed if they have been selected as testers?

Yes. All registered customers will be notified by email after the testers have been selected.
---
How long does a promotional campaign last?

As a rule, a campaign lasts 4-6 weeks. The campaign period may vary depending on the test product.
---
How much lead time does a campaign need?

Ideally, you should allow about 4 weeks.
---
What is the guaranteed review rate?

We guarantee a review rate of at least 70%.
---
Now it's up to you. Let's work together to promote your product and bring your brand to the forefront. Take advantage of our innovative advertising solutions and start your own campaign today with the Douglas Beauty Tester product tester program. We look forward to hearing from you and getting started with you!
More Advertising Solutions
---
Discover more Retail Media advertising solutions and enable rich, data-driven targeting options!