Behind The Scenes: Aylin Ersan – Head of Digital Media & Retail Media Lead
Category:
Behind-The-Scenes
DMS
E-Commerce
Retail Media
Über uns
Behind the scenes at Douglas Marketing Solutions! Behind our #adsolutions stands a great team that we would like to introduce to you. Our next team member is Aylin Ersan: Head of Digital Media & Retail Media Lead. Aylin will tell you what makes her work so special and she also has a tip for beauty brands!
WHAT DRIVES ME?
I´m driven to deliver good results that make our clients happy and to find an answer to brands´individual needs and challenges that is truly based real customer data.
WHAT MAKES MY WORK SO SPECIAL?
The combination of the diversity of brands and data, and the thus the different challenges that we tackle together with the clients based on insights, makes my work so special.
MY TIP FOR BEAUTY BRANDS:
Brands should be where their customers are with their activities. They should build their entire communication strategy on the basis of data- and customer-centric information and knit it around this. Especially now, the presence in E-Commerce is indispensable to give the final impulse to buy. Be relevant and take the place where the customer is taking place!
Latests Posts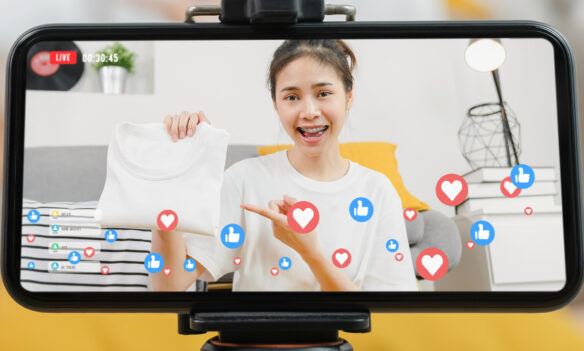 Shopping via livestream has triggered a real boom in China. In 2020, Chinese online retailers doubled their sales with this form of teleshopping. This has given rise to an industry with a turnover of around €134 billion, 50,000 livestreams per day, and 260 million views. But how sustainable is this hype?
Yassin Hamdaoui has been working at Douglas for three years. After working in the digital division and on both shop content and the integration of content into the customer journey, he is now responsible for product data management in its entirety, as well as social commerce and innovations, and has been since March 2021. This area includes live shopping concepts as well as new shopping concepts for the e-sector. We interviewed Yassin, and he spoke to us about DOUGLAS LIVE and how, with these formats, shopping can become a real all-round experience.