Changed media use behaviour in Germany: What influence does Covid-19 have on media use?
The Covid 19 virus has left its mark on our lives, including our media use behaviour. Media use refers to the consumption of all media offerings and mass media, including analogue and online offerings, such as television, radio, podcasts, video-on-demand, print media and many more. This blog post focuses on how media consumption has changed in each area and what impact the Covid 19 virus has had on this change and what will be important in the future. Hence, the information refers to the year 2020 and 2021.
Media use: Use of the internet continues to increase 
In 2020, the ARD/ZDF online study already showed an increasingly rising use of the internet. One year later, 100 % of the under-50s, 95 % of the 50-69 age group and 77 % of the over-70s are on the internet. In 2021, 94 % of the population, i.e. 67 million people, were online. One million more people than in 2020. In 2021, young age groups (14- to 29-year-olds) use online media 4.5 hours a day. This is also confirmed by Horizont:
"Media use continues to be stable at a high level and even increased further in the Corona pandemic."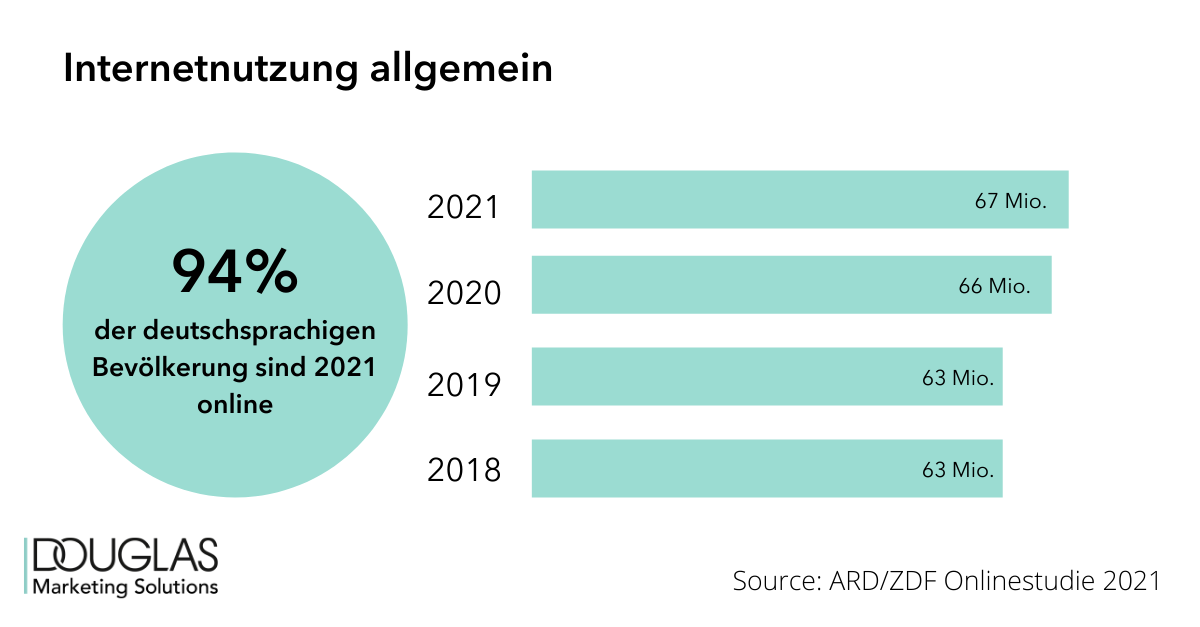 Media use: video
In contrast to linear television, which experienced a brief high at the beginning of 2020, but then subsided again, streaming services can report sustained growth. In 2020, 47 % of respondents to the ARD/ZDF online study used streaming services, 14 % of them daily. The most popular is Netflix. Here, 32 % use the streaming service weekly. This is followed by Amazon Prime Video with 18 % and Disney+ with 8 % weekly use.
The daily usage time of video content on YouTube, in media libraries and on streaming services is 64 minutes in 2021. The middle age group (30-49 year olds) is primarily responsible for the general increase in video range on the internet. On a normal day, every second person watches videos on the internet.
Adzine reports on the new "Media Quality Report" for the first half of 2021 from measurement and analysis service provider Integral Ad Science. It shows that the viewability of desktop video formats in the German advertising market is well above the global average at 78.9 % in the first half of 2021, growing faster than anywhere else in the world. Video ads therefore continue to be an efficient advertising medium in Germany.
Media use: audio
In 2020, online audio use was dominated by music. 35 % used music streaming services at least once a week and 31 % used YouTube to consume music. According to W&V, while music streaming barely benefited during the restrictions, its daily user base has increased by 25 % since the relaxations. Most likely, this is because people consume music on the go, for example on the way to work, school or university. Music streaming as part of audio marketing should therefore not be ignored. For example, you can achieve a higher recall value for your brand if you place targeted advertising in the streaming services.
Live radio broadcasts were still used by 19 % at least once a week and podcasts by 12 %. It was noticeable that especially the younger target groups between 14 and 29 and the 30- to 49-year-olds consume podcasts. According to Deloitte, podcasts nevertheless got a boost during Corona, because they were also used as an important information medium on the topic of Covid-19, presumably because podcasts often go into more detail on the topic than the news from TV and radio. 
According to t3n, audio is also "a very intimate, attention-grabbing format with minimal distraction. So it bucks the trend of ever-shortening attention spans in other media." According to 2020 Deloitte, while radio did not necessarily reach more people during Corona, it was used more intensively. According to the report, 30 % of respondents said they listened to radio more during Corona than before.
In 2021, 85 % of the population used audio content daily, for an average of 56 minutes. In this context, audio use via the internet has risen to 30 %, as internet radio stations and podcasts in particular shape the audio landscape in 2021.  
Radio advertising as the origin of audio marketing has taught companies in times of a visibly decreasing attention span that short and concise audio elements can definitely be an important tool. This includes, for example, a corporate sound like the Nokia ringtone or the Apple alarm clock. Today, people automatically associate the audio with the brand. But it does not have to stop there. Audio marketing can be used for much more. In addition to embedding voice assistants on websites or playing a corporate sound as soon as the user is directed to the homepage, the reader can be offered to download the blog post as an audio file.
In addition, audiograms can be integrated into the social media strategy. Furthermore, the trend of personalisation does not stop with audio marketing – if you as a provider have the location data of a customer and are aware of the listener's habits and routines, it is possible to use audio marketing to send personalised messages. For example, you can play advertisements for a restaurant chain when the listener is in their vicinity.
Those who want to go even further can check out Spotify's latest offering. Via its "Streaming Ad Insertion", brands can place ads that have been played in Spotify's extended network in podcasts in real time since the beginning of 2021. One advantage here is the possibility to optimize the audio advertising strategy based on target group insights and ad performance data. Similar offers are already available for digital radio advertising from audio marketer RMS.
In 2022, according to the US Digital Audio Ad Spending Report 2020, around 20 % of ad space will be bookable programmatically, allowing advertisers to deliver content digitally and in real time anywhere. Innovations such as ad insertions, unique IDs or audio stitching will also further accelerate the audio trend.
When talking about audio in the context of social media in 2021, many people remember the Clubhouse platform. Nevertheless, after the initial hype around the Clubhouse platform, things are actually a bit quieter now. Only 2 % of respondents use it monthly or less frequently. But since LinkedIn, Facebook, YouTube, Twitter and Reddit are already working on new audio formats, it cannot be ruled out that there will be a new trend app next year.
Media use: social media
The ARD/ZDF Online Study 2021 proves it: Facebook and Instagram are in fierce competition, as they were in 2020. Facebook wins in the weekly use category with 28%. Instagram reaches 26 %. However, the network is growing faster and clearly beats Facebook in terms of daily use. Instagram also scores 26 % in this category, while Facebook only has 18 %. So during the Corona pandemic, Facebook is more likely to be one of the losers among the networks, because in 2019, Facebook was still far ahead of Instagram with 21% daily use, at 13 % at the time.
The younger target group under 30 in particular used Snapchat (28 %) and TikTok (19 %) daily in addition to Instagram (55 %). Facebook only came in fourth place with 17 % daily use. 
Conclusion on media use during and after Covid-19
During Corona, our media use changed. The ARD/ZDF online study for the year 2021 proves this quite clearly. Moreover, media are becoming more and more important. Online video offers in particular are becoming more important, as well as online articles and messenger services. Social media, music streaming and linear media forms have also gained in importance during and to some extent after the pandemic. While there has been an understandable decline in on-the-go media use during the lockdown, the lockdowns have also caused an unprecedented increase. 
As media usage increases, so does the potential to advertise in them. Video ads in particular are popular and being consumed. For more advertising solutions to promote products in digital media, you can also contact Douglas Marketing Solutions. Feel free to contact us and discuss with us how we can make your beauty brand better known. We look forward to hearing from you!
Latests Posts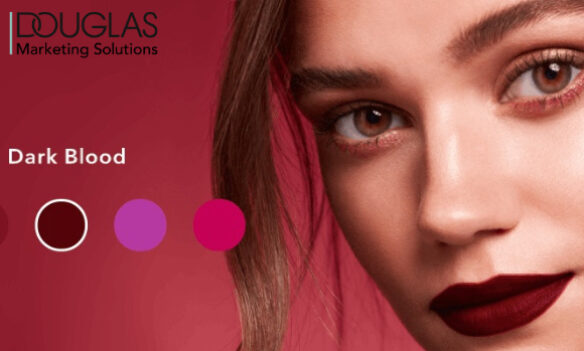 In the make-up world, shopping online can be difficult for many customers. If, for example, you don't know exactly which product you need in which colour, you may get the wrong tone. To counteract this, DOUGLAS has introduced the innovative BEAUTY MIRROR in the app: An augmented reality application within the DOUGLAS app that allows customers to virtually test make-up products. In this blog post, you can find out how DOUGLAS uses this concept to offer its customers in the online shop advice that almost feels like at the counter in the store and how the Beauty Mirror Brands benefit at the same time. Enjoy reading!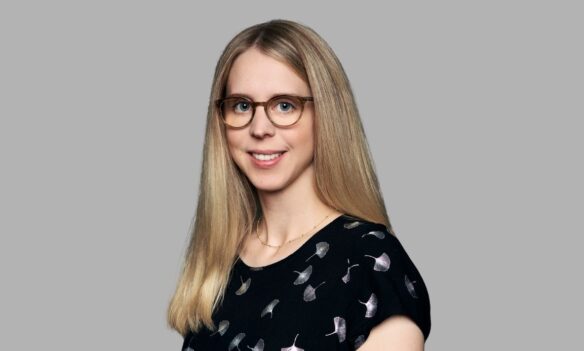 Lena Marquardt is a media specialist with over 6 years of experience in service and consulting. She looks at what is happening across all media channels with a focus on FMCG. With her particular enjoyment of figures, data and facts, she is an absolute specialist for various analyses. Furthermore, with a holistic view, she can always identify the best solutions for our clients along the entire customer journey. With her personal drive and special love for numbers, Lena is the perfect Team Lead in Client Service & Consulting.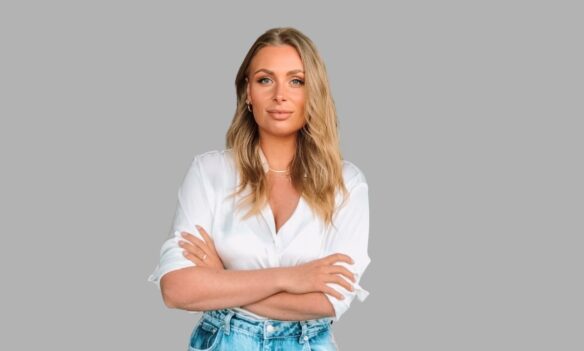 Louise has a huge passion for retail, as she comes from a long line of entrepreneurs in the luxury industry. Her creativity and ambition paved her way to online marketing. Her ability to think from a retailer's perspective as well as being a marketeer at heart, makes a career in retail media the perfect fit. Her love for cosmetics really is the cherry on top! With her 6+ years of experience in the beauty industry and 3 years in media and marketing, Louise is the destined candidate for the position of a Retail Media Manager.