DOUGLAS LIVE: Shopping experience that delivers the entertainment factor
Yassin Hamdaoui has been working at Douglas for three years. After working in the digital division and on both shop content and the integration of content into the customer journey, he is now responsible for product data management in its entirety, as well as social commerce and innovations, and has been since March 2021. This area includes live shopping concepts as well as new shopping concepts for the e-sector. We interviewed Yassin, and he spoke to us about DOUGLAS LIVE and how, with these formats, shopping can become a real all-round experience.
What is DOUGLAS LIVE?
Hamdaoui: DOUGLAS LIVE is the precursor to a social commerce platform. With this live shopping concept, we can, in addition to our online shop, offer livestreams in which we inform our viewers about a wide variety of current topics and in which brands are able to present their products. During the streams, customers can chat with the protagonists directly and add the product featured in the stream to their basket. We now offer our livestreams on a weekly basis in a total of six countries.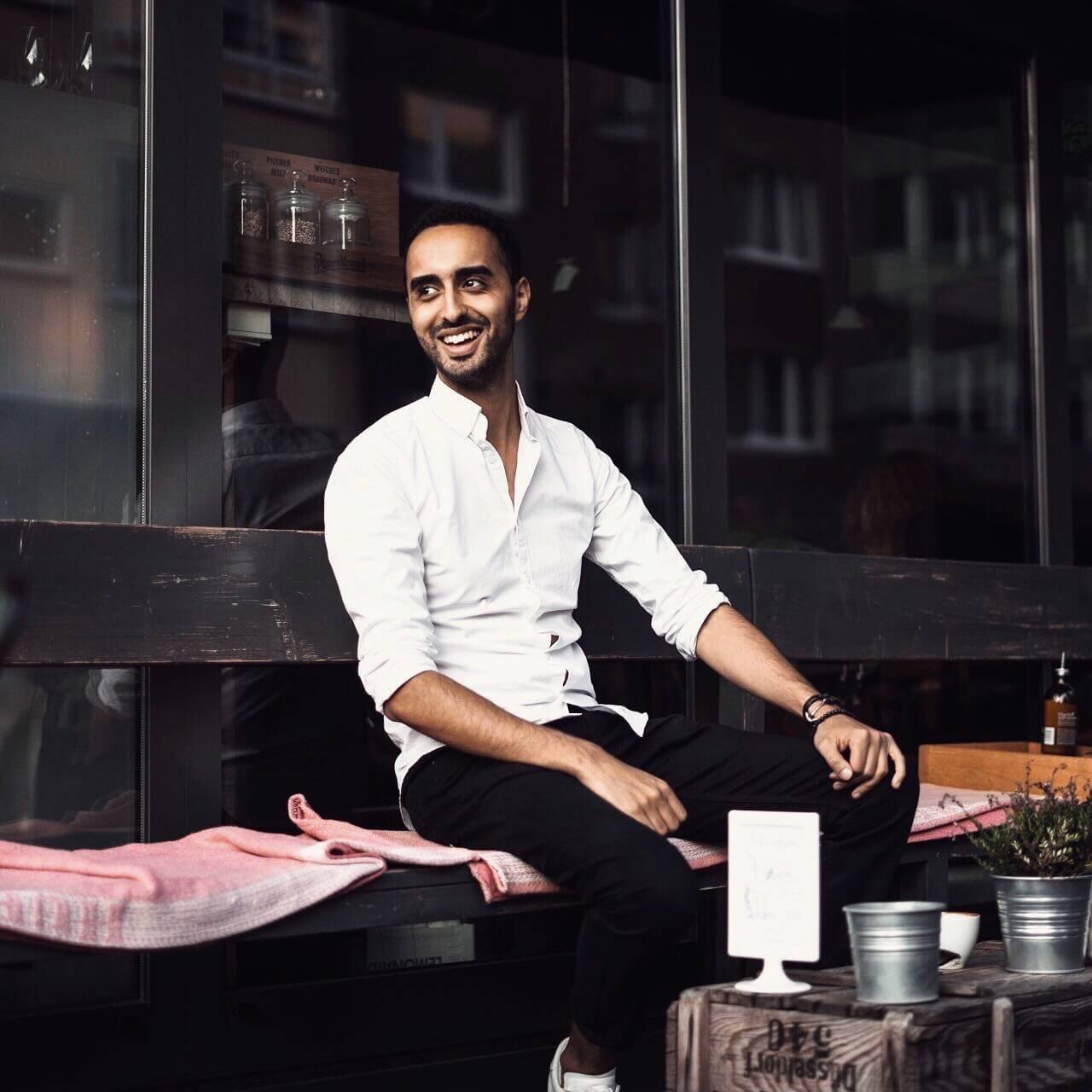 What is the aim of DOUGLAS LIVE and what is the concept behind it?
Hamdaoui: Our primary goal is to combine standard online shopping with the entertainment factor. We are now a platform with over 130,000 items available in our shop. This overwhelming range of items means the customer alone can no longer get to grips with our offering. We therefore needed a format that also inspired the customer and enabled impulse purchases. With live shopping, you can address a lot of customers at once while also providing support with things like how to achieve certain looks. Customers can learn from us first-hand and see what products they need to achieve the look they want. They can communicate with our protagonists in a way that feels very close and authentic, and shop for the products directly as soon as they see them.
While the evidence shows that the very young target group has a great affinity with this format, we are also seeing that older target groups are becoming more and more interested in these formats and are taking up our offers. We are currently working on scaling the format so that DOUGLAS LIVE can be seen as a sales channel for Douglas in the online shop.
Our full focus is not on the sales factor, however. Our attention is really more on providing an additional service and the entertainment factor in order to get people visiting Douglas more often and staying on the website for longer.
We are a marketplace that has many other brands, such as Butlers, feature as part of our range, and it goes without saying that these brands can also benefit from these live shopping tools – this is because our shows also inform customers that furniture and jewellery are available from Douglas as well.
Anyone can sit in on our livestreams from anywhere, which enables more people to be addressed and involved, particularly during product launches. We also benefit from no longer being limited in terms of space and can broadcast our livestreams from any location. The important people here are the ones in front of the camera – the livestream lives or dies with them. We need protagonists who are passionate about beauty, who present in a genuine and authentic way, and who, quite simply, have good energy and give off good vibes.
What formats does Douglas Live utilise?
Hamdaoui: As far as our customers are concerned, we don't distinguish between the individual formats. There is a livestream currently taking place on a particular subject for every customer.
We separate formats internally and conceptually so that we can be clear on what our focus is on: sales, education, entertainment, highlights/trends. We also have "deals" formats, which involve us offering a good discount that is actually only available during the respective stream. At our masterclasses with professional makeup artists or a famous person, customers can ask questions about the respective products and looks that are being presented during that stream. We are also still providing the "Ask Douglas Live" format, complete with themes from the stores. As part of this format, beauty experts from our stores address particular themes and inform customers about new products or go through the store and advise them on various products.
Which Douglas Live format is the most popular?
Hamdaoui: It goes without saying that the deal formats are always very popular, but we are seeing that the education and inspiration segments are also performing very well. Our fragrance livestreams are particularly popular. They can't smell them personally, but customers still trust us and buy fragrances during our livestreams. We believe that, by employing, strong, authentic experts in our livestreams, we can sell products that customers normally need to try or smell for themselves in-store. We can also create images and looks as part of our livestreams. In the online shop, customers can see our make-up products – we demonstrate the complete look for their benefit.
What makes Douglas Live special and how does it stand out from rival formats?
Hamdaoui: Currently, there are hardly any rival formats in Germany – and across Europe there are only very few. In the Asian region, on the other hand, live shopping is a very hot topic and already accounts for 20% of online business over there. We believe this trend will hit Europe's shores soon too, as live shopping is, quite simply, a lot more fun. You can watch various shows, and in future, you might also be able to follow your favourite livestreamer, with customers being informed when the streamer is next live.
The lack of competition in Germany is also due to the fact that social media platforms do not offer a shopping function for livestreams. This means nobody is able to display products that can be added to a basket during a livestream.
What role has Douglas Live played during the current coronavirus crisis?
Hamdaoui: Coronavirus has contributed to the live format being able to nudge a little further into the foreground. All of our stores are/were closed, meaning customers were not able to pay us a visit in person. But we were able to reach them through their smartphones. They can continue to follow us and we are still able to inspire them with beauty-related topics. We want to be part of our customers' world and not just be seen as an online shop where they can buy a product. We want to be somewhere where you can spend time and get to know a new community with whom you can exchange ideas, learn something new and get introduced to new products – for people who really love beauty.
What are the future prospects for Douglas Live post-coronavirus?
Hamdaoui: We firmly believe that the live shopping format will maintain a presence even after the coronavirus crisis has come to an end. We will present social commerce as a new sales channel and offer it in such a way that it makes sense to be a part of it, especially from a livestreamer's perspective. In this way, we will not only have our own employees or brands participating, but also customers who can sign up, stream on the channel and thus benefit from it for themselves.
To what extent can DOUGLAS LIVE be seen as a branding or sales channel?
Hamdaoui: DOUGLAS LIVE is absolutely a branding measure aimed at creating awareness. What we have here is a channel where we can present and provide a clear explanation on products, especially ones that require advice and guidance. We also receive feedback from the community with regard to how they are coming across the product or whether they already have it. On top of this, we can connect with the community that is already using the products. This makes DOUGLAS LIVE a customer retention tool as well.
We are also a powerful sales channel. By deploying a limited number of offers during a stream, we are able to naturally increase sales without destroying the label's branding through discount battles. We have significantly higher conversion rates that are above the normal benchmark seen in online business. We've also had shows on DOUGLAS LIVE that have boasted conversion rates in the double-digit percentage range.
The viewing figures are increasing all the time as well. Currently, our livestreams are consistently pulling in four-figure audience numbers. It is for this reason that we also believe our live shopping will develop into a channel that people will frequent and watch on a regular basis as well. This belief is also borne out by customer data. Live shopping customers come by more often than normal customers because they are constantly being inspired by our livestreams and consequently purchasing products on a consistent basis.
To what extent are you thinking about integrating with TikTok for your live format?
Hamdaoui: We are currently looking to stream simultaneously on TikTok and other social media channels in order to present our content on these sites as well, even though they don't offer a shopping function yet. However, we believe that these channels will also offer this function in the future, at which point we will already be ready-for-market, as we will know exactly what we want to do and will already have a finished concept.
Who were your major role models in the development of the channel?
Hamdaoui: In the Asian market, there are many providers, such as Perfect Diary, JD or Taobao, who are offering a range of live shopping options. In Latin America, meanwhile, a company called lululemon is head-and-shoulders above the competition. But we don't think that the concept needs to be adapted, as the mentality of European customers is quite different to that of customers in China. Our purchasing volume is completely different, so we make sure that we draw the best lessons from these companies, but still create our own format that we believe can work well for the beauty sector.
How can I get involved as a brand with DOUGLAS LIVE?
DOUGLAS LIVE can be booked through the Douglas marketing team or as part of retail media campaigns. If you are interested, please send an e-mail to marketingsolutions@douglas.de.
Get to know more about DOUGLAS LIVE!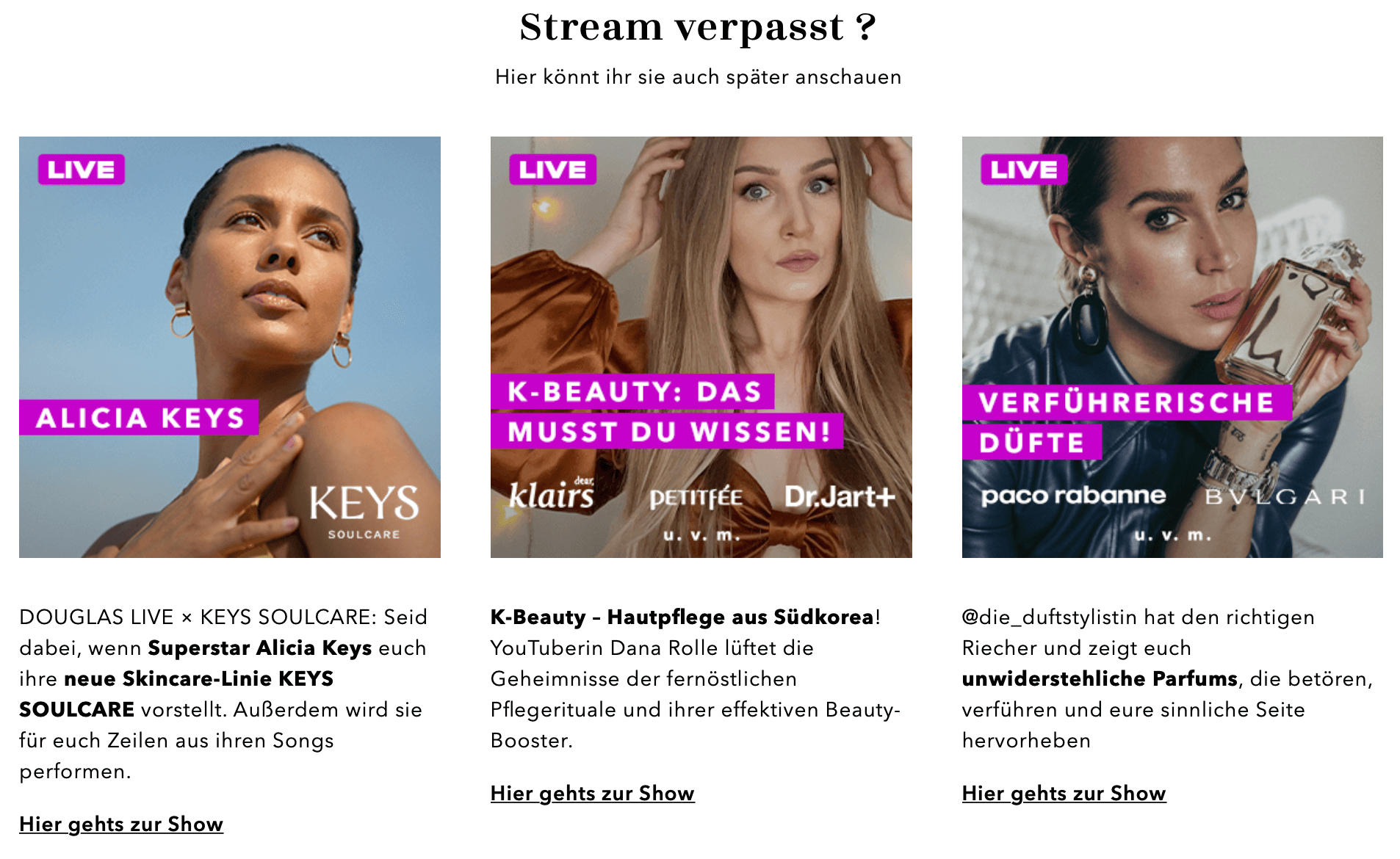 Latests Posts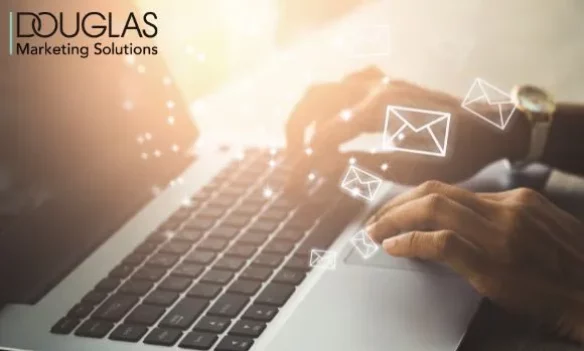 The email address is the ultimate gateway to our multimedia lives and most people keep their personal email addresses forever. Therefore, it stands to reason that many see the email address as the key to the future of digital marketing and advertising. It can identify target audiences across devices, channels and platforms and is inherently personal. Mail hashing makes it possible to reach target groups in a privacy-safe way that is highly customized and personalized. Find out exactly what mail hashing is, how it works and how it can benefit your brand in this DOUGLAS blog post. Have fun reading!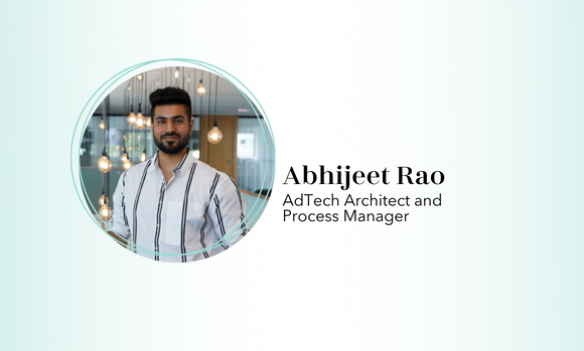 Programmatic advertising, ad operations and tech integration – this is just Abhijeet's language. He is an engineer with a digital mindset and passion for advertising technology and automation tools. With years of experience in the technical and programmatic fields, Abhijeet develops data-driven solutions that are designed to help you and your beauty brand achieve your goals.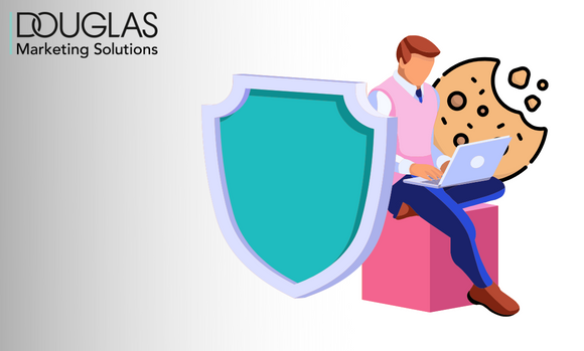 Known and feared in the advertising industry: the shutdown of third-party cookies. In 2022, the corporate giant Google wanted to discontinue third-party cookies in the Chrome browser. Last summer, however, this deadline was extended to 2023. And now the corporation is postponing the end of third-party cookies by another year to 2024. In this blog post, you'll learn everything you need to know about the elimination of third party cookies and how DMS has already been driving successful marketing strategies for years now using first party cookies and retail media. Have fun reading!