Offsite campaign
HOW TO PROMOTE A NICHE LUXURY SKINCARE BRAND
Increasing the sales of a bestseller
The brand's challenge:
If you want to address new customers and inspire them for the product and advertise with an expensive product at the same time, it usually lead to the fact that the scattering losses are high with little interaction. The challenge was to prove that it is still worthwhile to address a very specific target group.
Our approach:
To prove that our 1st-party-data not only works, but also has a positive impact on shopper purchase intent, we created a very specific premium shopper target segment. Shoppers in this segment predomonantly purchase high-priced luxury items and have a high AOV. We also tested our segment with third party affinity segments and optimized on them.
The results:
Every user who visits the Douglas product detail page (PDP) is retargeted by a Douglas-owned campaign. When certain customers are led to the product detail page (PDP) by retail media, is has a massive impact on the further customer journey.
The proof: Our target groups work. In a direct comparison of last-click conversion winners, we achieved a huge increase in CVRs. For example, the conversion rate in social increased by 64% and in display by as much as 209%.
Download Case Study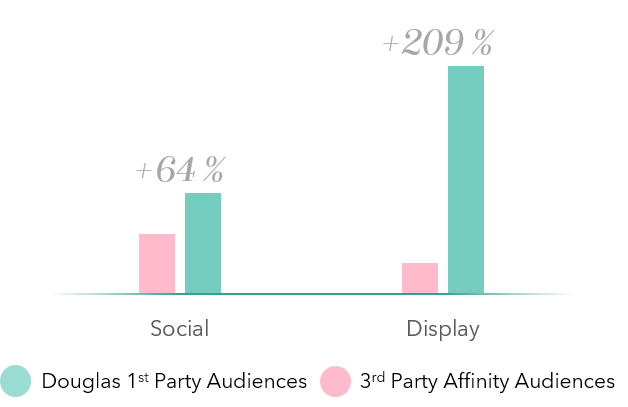 Download Case Study