SPONSORED PRODUCT ADS
HOW TO BE ALWAYS ON ON douglas.de
FROM 1€ TO 9€ WITH SPAS
The brand's challenge:
The digital world is often different from the real one. This is also true for the presentation of product on the retail shelf. While the shelves are static offline, the digital display spaces change very dynamically in the online world.
Our goal and the results:
The brand wanted to make its top sellers even more visible and promoted on the digital shelf, as well as increase sales. Through ongoing support with SPAs, the brand managed to further distinguish itself in the perfume and makeup category since the beginning of 2021 and was able to increase its visibility on the digital shelf.
The results have been impressive:
Not only did the number of AI reach 9.6 million, but the conversion rate was also at 10.78%. The achieved ROAS of 9€ is also particularly noteworthy.
Download Case Study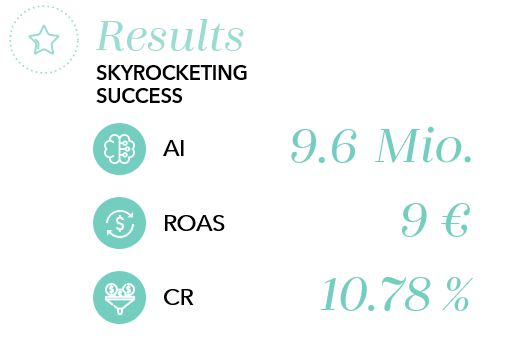 Download Case Study